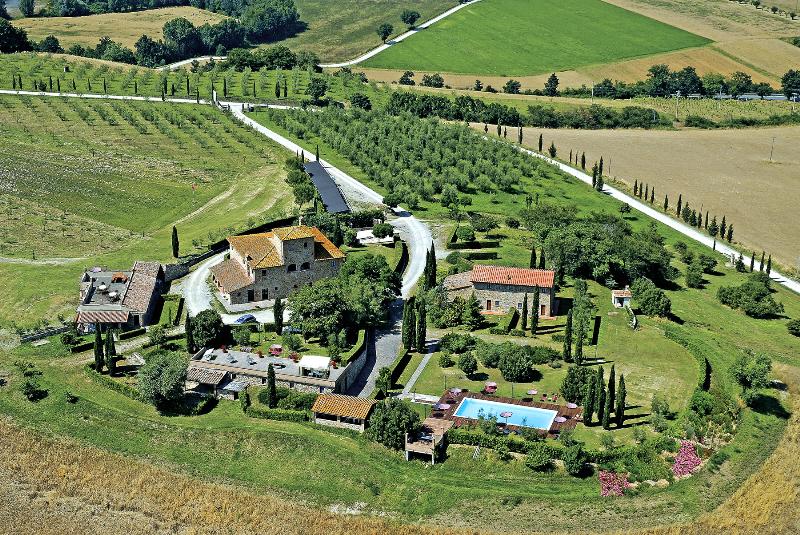 In the Pisa countryside close to Volterra, Pisa Farmhouse is structure from the 1800's, fully recuperated and restored by the owner. Conserving the integrity of the typical architecture of Tuscan country life and offering apartments of various size. It presents the quiet nature of its surroundings. The complex is found within an biological agricultural farm of round 400 hectars that cultivates grains, olives, fruit, wine grapes and vegetables. They also raise poultry and sheeps.
Set in the midst of quiet Tuscan hills Pisa Farmhouse is an ideal place for organizing meetings, conferences, business gatherings and ceremonies.
The Farmhouse offers a complete reception service. In addition to meetings, it is also possible to organise fringe activities and recreational activities.
In Pisa Farmhouse there are two estates, in the first, there are 15 apartments located in various buildings. The size of the apartments vary from 35 to 90 square meters and can accommodate two to six people.The second farm includes two houses with exclusive pools, placed in a panoramic position, oriented towards the village of Lajatico and in particular on the Theatre of Silence by Andrea Bocelli where every year he performs for an international audience.The Estates are located mid-hill, caressed by the wind breezes that mitigate the Tuscan summers.In particular, we can observe the city of Volterra with its typical Balze that by nightfall they paint pink, Montecatini with its imposing tower overlooking the village and stands as a sentinel of the Era and Cecina valleys. The farm finally extends over the distant mountains of Pisa.