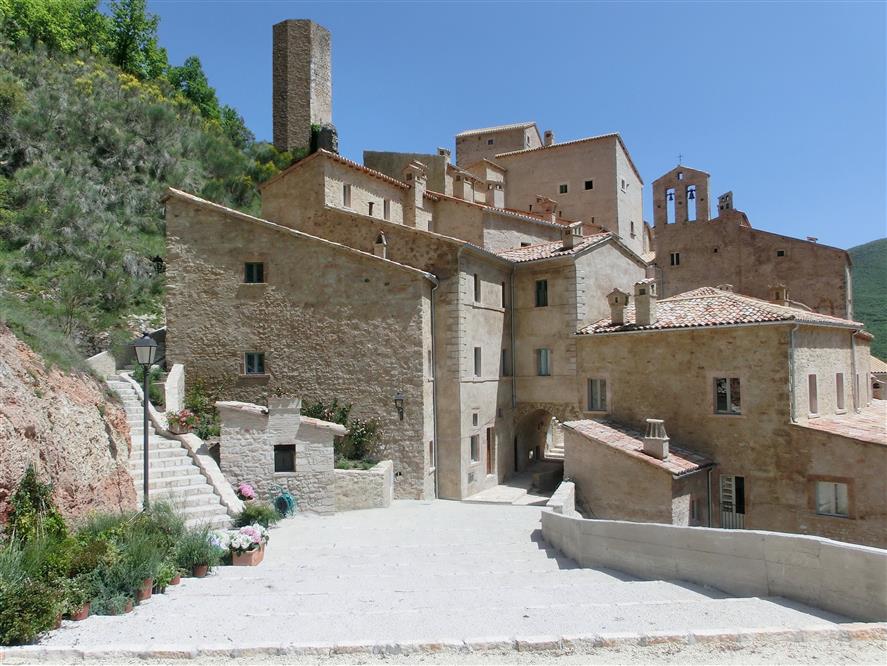 An amazing place for an unforgettable Wedding in a Medieval Hamlet! The castle was set up during the 9th and 10th centuries, alongside the important road connecting Spoleto to Foligno, Norcia and Assisi. The perimeter walls form a triangle with a lookout tower at its top and the surroundings walls built around. During the Middle Ages the castle took part in the Wars between Guelfs and the Ghibellines. Especially between the 14th and 15th centuries, the village enjoyed a flourishing economy based on agriculture, the husbanding of the forest as well as hand made products in iron and hemp.
The Hamlet has been recently restored preserving the architectural context as well as the original elements and materials: stones, wooden beams, fireplaces, doorways.
The exclusive apartments of the village have been carefully restored and tastefully furnished, they can be rented as Selfcatering Apartments or Luxurious Suites with breakfast.
Once inside the hamlet, where the lift lands, you have the heart of the whole complex. This includes a reception and concierge area (wifi connection) small artcraft shops, an excellent restaurant with panoramic terrace where visitors can taste the genuine local food, a wine bar, a reading room with library, museums, congress room. The hamlet has charming arched alleys and panoramic terraces with benches, gardens and a medieval church with frescoes of great value.
The castle offers quiet and peace, as well as an annual program of events including meetings and conferences in the shared areas of the hamlet, where visitors can also enjoy the local farmers' market, concerts and art exhibitions.
Wineries tours, tasting tours, rafting in the river Nera, canyoning, visit of the amazing Marmore Falls (largest in Europe), nature walkings, bike rental in the cicle lane along the river, local food festivals, art events, horse/mule riding, plenty of winter sports (cross country ski, nordic ski).
In the nearby valley is possible to do a tour of ancient Abbeys, Convents and small country churches that you can reach following off the beaten tracks.
Car recommended but not essential. Pick up service from and to airport, taxi driver for visits of the surrounding cities and villages, car rental available. At easy walking distance guests can buy local products from the farmers, such as lentils, potatoes, eggs, cheeses.
A lovely village is 3 kms away from the castle, here guests can find groceries, farmacy, shops, postal office.
This private hamlet with castle is a real gem in the heart of Umbria, located on a hilly panoramic place overlooking a valley of outstanding natural beauty.
The American architect and phoptographer N. Carver, published the book Italian Hilltowns and dedicated the cover of the book to this hamlet, he defined it as the "archetype of Italian hilltowns".
It is the ideal destination for couples, families or large groups of travellers looking for an authentic Italian wedding experience.