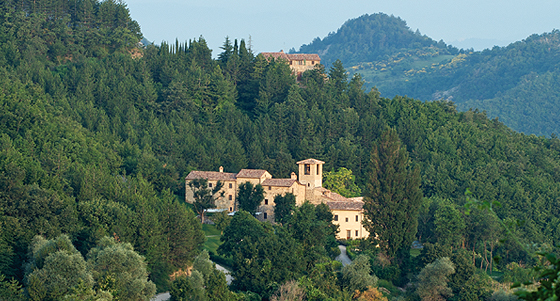 Wedding venue in the Countryside!
Having a drink near the heated pool, letting your eyes gaze at the undulating hills caressed by the breeze, having lunch outdoors brushed by nature's light breath. To be protected by the Abbey's walls inside the restaurant or inside the deconsecrated church.
A day made up of moments belonging to you only.
The Abbey, surrounded by green and with its Medieval atmosphere, is the ideal place for a wedding.
Many couples have chosen it as the location to celebrate their best day.
In the Abbey there are 16 rooms of various types: Classic, Superior, Junior Suite and Suite.
The beds are in total 53.
Based on the number of your guests they can organize and customize your wedding as you like: welcome cocktail at sunset, starters' buffet around the pool, dinner around the pool as well or in their beautiful panoramic restaurant or in the park with the views of the surrounding hills.
To make this important event more intimate they can do an exclusive contract, with prices that will be different depending on what you prefer: the use only of the location, the use of also our rooms with the option of bed and breakfast, or even half or full board.
With this solution you will be free to decide how to decorate all the Abbey.
Inside the Abbey there is also a little deconsecrated church, where you can have a civil ceremony celebrated by the mayor.