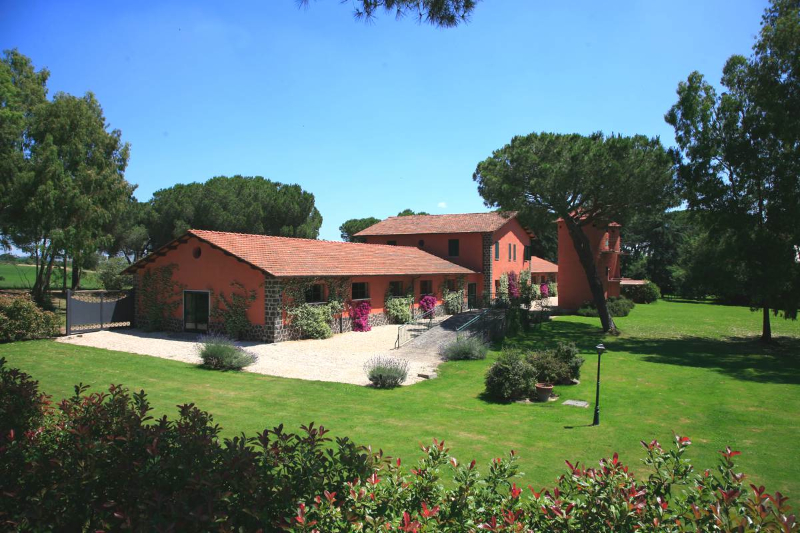 Located not far from Rome's historical center, this Villa outside Rome is a farmhouse with a huge private garden, swimming pool, volleyball field and barbecue. It is a 140 hectar farm and the ideal setting for those wanting to relax and spend their vacations in the green roman countryside. The apartments and rooms, furnished in a comfortable and practical fashion are surrounded by a pinewood forest, open spaces equipped with tables, chairs and a children's playground. Perfect spot to set off for visits of Tuscia, an area of natural and historical wonders just north of Rome: Bomarzo's "Park of monsters"; the papal town of Viterbo (one hour drive), Bracciano lake (6km) where it's possible to go sailing and do water sports; Anguillara Sabazia, charming town on the shore of Bracciano with its beautiful alleys leading to the lake; the recently rediscovered Calcata, a mysterious and romantic town with several interesting restaurants. Furthermore, the proximity to Rome and the practical Rome-Anguillara railway link (40 minutes ride with trains leaving every 20 minutes) makes visiting the eternal city easy and pleasant.
The setting is perfect for special and unforgettable events, everyone will be able to choose the favourite scenery for an amazing wedding day, using the outdoor spaces or inner Halls.
You can organize the wedding of your dreams, a typical Italian country wedding and easily reach Rome and its history.
The sunset light surrounds the estate with magical light and atmosphere even more charming, thanks also to the external lighting, designed in every detail.
There is also a lovely farm with about 60 beds (in several houses) and a beautiful swimming pool open from May to September, where guests can spend their time and relax.
Don't heasitate to contact us for further information concerning this beautiful Villa!