Weddings in Italy
The wedding of your dreams, we make it real! This is our job, this is our commitment, this is our satisfaction.
No matter the type of ceremony you choose, we can help you with all procedures required, taking care of all necessary documents for your civil or religious marriage.
If you are looking for a romantic castle, a villa in beautiful countryside, a historic monastery, or a charming property in one of the many medieval villages, you'll just have to share your thoughts with us and we will find the most suitable solution among our large selection.
At Si Weddings we are passionate of Umbria, our region, but we arrange marriages without difficulty also in other Italian regions such as Tuscany, Marche and Lazio.
Whether it's a small intimate ceremony or a large family wedding we will take care of all aspects with a great attention to details. Offering an impeccable organization and a personal and friendly service will put all the effort to create your perfect day.
With the help of a professional wedding coordinator you will be able to turn into reality your project, someone with the right experience who will take care of the style, personality and every little aspect of the most important event of your life.
Relax and enjoy the moment, we will be there to solve every problem and to deal with every little concern.
We make sure that your wedding will be exactly as you dreamed and we will make sure that your choice has no regrets
Only after their "big day" many couples realize how important was the choice to rely on a wedding coordinator.
We believe that there are many reasons that should convince you to not be alone:
Having someone who relieves you from the stress of the wedding day;
Having someone who has selected for you the best suppliers;
Get the best service at the best price;
Accordance to your budget;
Enjoying a wedding without worries;
Problem solving;
Courtesy and kindness to family members and guests;
To have creativity, professionalism and experience.
After several years, we think that the most important thing to take care on planning a wedding abroad is to have the right person at your side.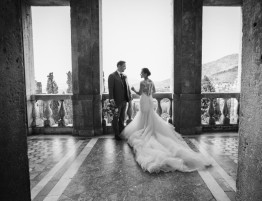 We have planned a lot of weddings: both intimate wedding with only Bride & Groom and big event with several guests, are the same for us.
We pay a big attention to every details and work just for you to obtain the best!